Rhetta Jones has been named the recipient of the fourth annual 'Will you Come to Me in My Dreams Award.' She follows previous honorees, Randy McManus, Vernelle Swinton, and Linda Taylor. Jones was recognized during the November Board of Trustees and staff meetings at Connie Maxwell.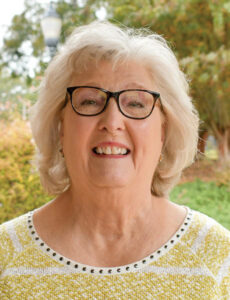 Danny and Debra Nicholson established this endowment to honor both their parents and pay tribute to the dedicated staff of Connie Maxwell. 
"When Debra and I started this endowment, we wanted to reward somebody that goes beyond the call," Nicholson said. "There are a lot of people who do that here, but also people who do that for a long, long time. Rhetta has given her life to this place and our children."
Rhetta Jones is the campus administrator of the Marie Younts Girls' Home in Mauldin and has served at Connie Maxwell for 42 years.
In a letter submitted for her nomination, Jones is described as a God-loving woman with a servant's heart. "She will cook, clean, and repair a broken chair. She is a teacher, she is a counselor, she is a cheerleader, she is a driver…whatever is needed, the girls can always depend on her."
The letter describes the close relationships she has with many of her former students. For example, two of her first girls, sisters, still call her on her birthday, Mother's Day, and Christmas.
"God gave me His greatest gift, His son Jesus Christ, for my sins," Jones said during the November staff meeting. "His second gift was the gift to be a part of this ministry for 42 years."
Jones recalled how working with children can be challenging at times. "I often go down the hall and say, 'Lord, remind me again why you have me in this ministry?' and He does."
During those discouraging moments, she always finds encouragement. Often, those are the times she gets just the right phone call, card in the mail, or other affirmation for her work.
"I know why He has me in this ministry. He needs all of us to serve His children in their broken times."