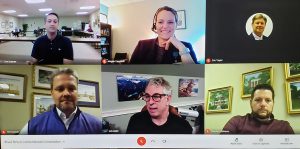 On Monday, March 15, representatives from Connie Maxwell Children's Ministries consulted with Dr. Bruce D. Perry, a world-renowned psychiatrist currently serving as the Senior Fellow of the Child Trauma Academy in Houston, Texas. Dr. Megan Zappitelli, head of the psychiatry training program at the University of South Carolina School of Medicine, was also a part of the meeting that focused on exploring how Connie Maxwell could provide a deeper level of ministry and healing for children who have experienced trauma.
Dr. Perry developed the Neurosequential Model (NM) used by hundreds of clinical organizations and thousands of clinicians in over thirty countries. This evidence-based approach to clinical problem solving continues to provide critical data about the impact of experience—good and bad—on the developing child.
Dr. Perry believes this model can be particularly effective in residential settings.
"The advantage of a residential setting is that this approach tries to engage everybody in the child's life so that they can all be on the same page about understanding the child, and then put together a well-integrated treatment approach," said Dr. Perry. "The fundamental perspective we have is that therapeutic change is something that happens moment by moment, in real interactions with the people in a person's life, not just a therapy office."
Dr. Perry provided examples of the impact a minister, a coach, a teacher, or a residential staff member who had the ability to be present, patient, and supportive in a child's life could have.
He explained how these interactions could regulate the child's stress response system while stimulating other areas in the brain involving pleasure and reward, cognitive learning, emotional and moral learning, and so on.
"So, there's this moment where there is learning, there is healing, and there is development all happening at the same time," said Dr. Perry. "The little doses of this that take place throughout the day are provided by people who understand the issues and are willing to be present and patient, and care for the child."
"All children that come to Connie Maxwell have experienced some level of trauma," said Connie Maxwell President William D. Nicholson II. "Science has come a long way over the years in understanding trauma and the brain. I think it is important that we continue to explore ways we can provide that absolute best healing experience for every child in our care."
A more intentional focus on ministry and healing at Connie Maxwell is just one part of their new strategic plan, A Decade of Dreams. On February 4, the Connie Maxwell Board of Trustees approved staff to move forward with the strategic plan.
While enhancing programs to focus on a deeper level of healing is a part of the plan, the #1 priority continues to be facilitating spiritual growth, and ultimately a relationship with Christ.
"We don't want to discount science, but we also know that broken people need Jesus," said Nicholson. "We believe that these two truths can work together to create an environment of optimal healing for our children and families."