Vacation Bible School is nothing new to our ministry; yet, it has been years since one was hosted at Connie Maxwell Baptist Church. That changed this summer when Senior Pastor Stephen Johnson and Minister of Music and Discipleship Alex Morrison organized a time of dedicated worship so our children and staff could participate in 'Destination Dig' Vacation Bible School. 
Children enjoyed unearthing the truth of Jesus by learning about Biblical archeological artifacts from around the world. Connie Maxwell's Children's Ministry Assistant, Kassi Johnson, stated, "many seeds were planted as we got the opportunity to share God's word through Bible study, music, games, crafts, missions, and even delicious snacks."
With over sixty children participating and thirty Connie Maxwell staff, this became a time to connect, worship, and grow our relationships as the word of God was shared with children. The verse for this year's Vacation Bible School read, Jeremiah 29:13, "you will seek me and find me when you search for me with all your heart." This scripture perfectly describes the week of unearthing the certainty of Jesus.
Each day was filled with new experiences as our children walked the halls decorated with vines, old pottery, and replicas of ancient artifacts. Our junior archaeologists ranged from ages kindergarten to twelfth grade. Each activity was constructed by staff to be the most interactive experience for the varying age groups. They sang new songs, completed art projects, heard the word of the Lord, and learned about real-life archeological finds that are tangible pieces from the past. Lesson plans were designed to further the learning of Jesus and incorporate the scripture. 
One of the most popular crafts reported for the week was the making of 'ancient' clay pinch pots. As the clay was worked and molded, each child was reminded of how Jesus used His hands to heal a blind man. The scripture for this craft included John 9:10-11 10 "How then were your eyes opened?" they asked. 11 He replied, "The man they call Jesus made some mud and put it on my eyes. He told me to go to Siloam and wash. So I went and washed, and then I could see."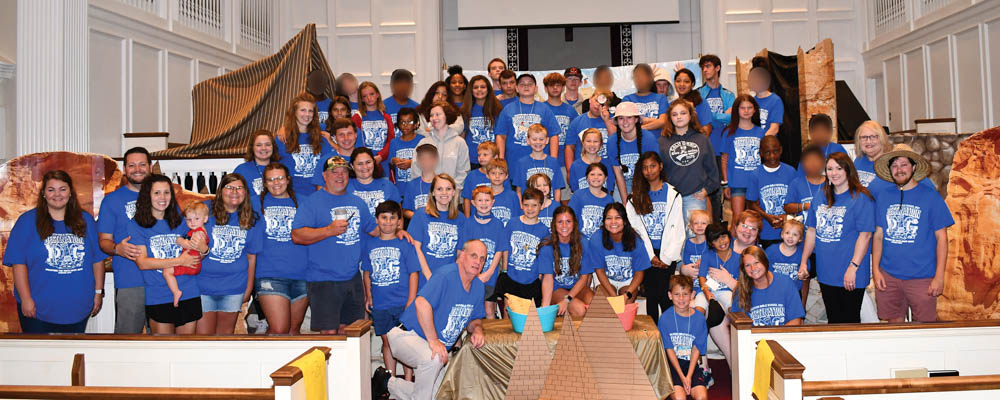 Teachings consisted of learning more about Jesus's time on Earth, including his birth, how he healed the blind man, the betrayal from his disciple, and when Jesus rose again from the dead. In addition, the week focused on our children becoming junior archeologists to explore and discover the truth within the verses that our staff shared. With the help of our team, scripture was lifted from the pages of the Bible and became a part of Connie Maxwell Baptist Church. 
"This was amazing to see our entire campus come together in such a unifying way to serve our kids! We look forward to this being the start of a new tradition at Connie Maxwell Baptist Church, working together in Vacation Bible School every year!" Stephen Johnson.