Tuesday, November 30, was an exciting evening for Connie Maxwell Children's Ministries. At 6:00 pm, the doors of Connie Maxwell Baptist Church opened to welcome hundreds of visitors to hear Christian artist Colton Dixon. The sold-out show had approximately 350 people packing the pews, with some driving as far as Fort Mill, SC, to attend. The concert was also a treat for the middle and high school-aged children at Connie Maxwell.
Colton Dixon quickly became a household name in 2012 when he was voted a fan favorite and made it to the top seven on Season 11 of Fox's hit show AMERICAN IDOL. His career has been on the fast track ever since, boasting over 100 million streams across all platforms. 
When Colton first arrived inside the church, he was a little taken back at the beauty of the stained glass windows and the overall atmosphere. "This has got to be one of the prettiest places I have ever played," he said. "It's just amazing." 
Colton entertained the audience with a solo performance on the keyboard and played a variety of songs, including his latest single, "Miracles."
The concert was planned as a kick-off to the 20th anniversary celebration of Connie Maxwell Christmas, December 2-4. 
"We wanted to come up with something extra special this year and thought this would be a great way to welcome people to our campus and give them a sneak peek of our beautiful Christmas lights before our official anniversary celebration weekend," said Chief of Staff/Dreams Administrator Debbie McDowell.
Before Colton performed, Connie Maxwell President Emeritus Dr. Ben Davis began the evening by providing a brief history of Connie Maxwell Christmas and how it had grown over the years. 
That was followed by a display of 20th anniversary cupcakes, complete with sparkler candles, that was wheeled down the aisle after the audience sang 'happy birthday' to commemorate the special anniversary. Each guest received a cupcake after the concert.
When the concert was finished, one thing was certain; no one was ready for it to end. No longer feeling shy, the Connie Maxwell children in attendance were standing and clapping towards the end of the show. Colton had gained some new lifelong fans on his visit to Greenwood.
As the ministry moves into year two of the strategic plan, A Decade of Dreams, the hope is to bring more exciting concerts and events to campus. Stay tuned!
What else was special about Tuesday, November 30? It also happened to be #GivingTuesday! This was the third year that Connie Maxwell has participated in this national day of giving, and it was by far the most successful for the ministry.
With an initial goal of $250,000, the evening ended with 505 donors, giving a total of $445,421.51! This included $128,000 of "match" money, checks, and cash, as well as the online gifts received on that day through our website and fundraiser pages.
Vice President for Strategic Initiatives Jay Boyd was incredibly excited about the amount of staff participation during this day of giving.
In an email sent to staff, Boyd shared, "Connie Maxwell staff had a total of 21 fundraising teams and raised more than $80,000! I am continually amazed by the level of unity, camaraderie, and energy exhibited by Connie Maxwell's staff. Yesterday is just a small example of what God can do over the next decade if we work together and trust HIM to provide for the children and families we serve. Thank you, Lord, and well done, Connie Maxwell!"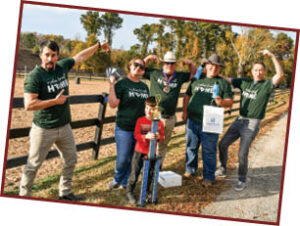 To make this day even more exciting for staff, Boyd established a competition with three categories: Grand Champions (for the most revenue raised), "Most Donors" Award, and the Spirit of #GivingTuesday Award.
The overall winning team who raised the most money was Maxwell Farms with Brad Martin, Lauren Jay, and Jamie Owens. They raised almost $21,000, most of that coming from a single donor who gave a large and incredibly generous gift.
Finally, the Spirit of #GivingTuesday award went to Connie Maxwell alumni and staff member Henry Woodard. Woodard did an excellent job of promoting our mission for #GivingTuesday and made a touching FaceBook post about how much his mentor Bobby Wines meant to him. He asked everyone reading his post to make a gift to honor people like him.
In 2022, #GivingTuesday will fall on November 29. Mark your calendars and become a part of this exciting day of giving!