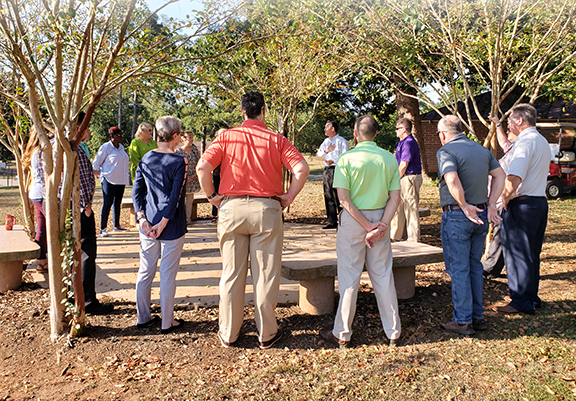 It was a breezy, sun-filled morning on Wednesday, September 25, 2019. Before the busyness of the day began, Connie Maxwell staff gathered at the prayer garden on the Greenwood campus, for the second Ceremony of the Blessing.
This new effort, led by President Danny Nicholson, is a way to pause and pay tribute to those individuals who have passed away and faithfully left the ministry of Connie Maxwell in their will.
Nicholson described his disappointment that the world kept going, and often people didn't take time to recognize individuals that had made such a lasting and enduring sacrifice of provisions for children and families.
"It's so important for us to stop and thank Jesus for what He's done to inspire people to express what they eternally value and celebrate their decision to leave their inheritance and legacy to children in His name," said Nicholson.
This particular ceremony honored recent estate gifts received by James C. Jeter Sr. and Juliana Edenfield Browning.
Jeter, a deacon and devoted member of Northgate Baptist Church in Greenville, was described as someone who expressed a deep and abiding faith in Jesus Christ.
During World War II, Jeter served in Europe with General Patton's Third Army and was awarded five battle stars and one other citation.
Connie Maxwell received more than $575,000 from his estate.
"When I see a significant legacy gift that this man worked for, sweated for, gave his life to, and then decided to give away at his death to Connie Maxwell—that is an incredible privilege and sacred responsibility," said Nicholson. "His legacy was to make sure other generations know and understand the mighty works of our Lord for children."
Juliana Edenfield Browning was born in Hampton County, near Brunson, S.C., on March 14, 1910. She passed away at the age of 94.
Browning was a forty-year employee of Palmetto State Life Insurance Company. She was a member of Park Street Baptist Church since 1925 and played the piano for the Beginner Department for fifty years. Her devoted love for faith and children were reflected through this legacy gift.
Her estate donated more than $235,000 to Connie Maxwell Children's Home.
"We are all defining our legacy. James and Juliana defined their legacy by their love for children and Jesus," said Nicholson. What is your story going to be? This question is for us all. What legacy and impact will our lives leave behind?"
Nicholson ended, "When we receive these kinds of legacy gifts for our children now, and in the future, we will take the time to remember their life and legacy and memorialize their endearing commitment through the Ceremony of the Blessing."
If you want to learn more about estate planning and other transforming legacy giving options available, please contact Vice President for Advancement Eric Taylor at (864) 942-1446.